When I speak on Islam and Christianity at a Church I am always asked why I do what I do. I always reply with this is the Ministry Jesus called me to do. That is true. There are much easier things I would rather do if it was my choice. I think from now on I will add too that answer I have a wife. I have a Daughter. I have a Mother. A Daughter-in-law who is like another Daughter and a beautiful Granddaughter. (I also have a Son). I have dear friends who have Daughters and Granddaughters. Part of why I do what I do is so they don't have to live under Islam and the horrors it brings on women and girls.
When it first was put on my heart to write this article I was just going to tell stories I knew of. True life real stories. I knew if/when I did I would have Muslim women cursing me out, telling me I didn't know what I was talking about. That I was misinterpreting the Quran, The Sira, and The Hadith. That I was a racists and a bigot. The same old tired excuses and arguments I hear daily.
Another argument I always get is I must watch Fox News, so none of the sources I will cite in this article will be from Fox News. The next argument is that it isn't Islam its cultural, so we will be looking at articles from around the world, not just Muslim countries, or not just Arabic countries etc...
I see from my 12 plus years of study of Islam how women and little girls are treated. It breaks my heart. These articles will be from respected news sources. The first two articles are what made me decide to finally break down and write this one.
Uganda Imam Allegedly Beats Daughter to Death for Converting to Christianity
NAIROBI,
Kenya
- A 12-year-old girl who was hospitalized for two weeks after her Muslim father beat her and her sister for converting to Christ last month is traumatized after learning that her sister died from the assault, sources said.
Naigaga Saidah's father, Imam Abudalah Ali of Bwita mosque in Kaliro District, allegedly beat to death her 15-year-old sister, Namugonya Jamirah, on Dec. 11 after the sisters put their trust in Christ at a five-day evangelistic event that ended that day. Beaten unconscious, Naigaga did not learn of her sister's death until a pastor had transferred her to safety in another town on Jan. 7, sources said.
Read more:
http://www.gospelherald.com/articles/54062/20150121/uganda-imam-allegedly-beats-daughter-to-death-for-converting-to-christianity.htm#ixzz3QWwqWVGY
How can a Father do this? How can he beat one daughter to death and beat the other almost to death? Because Sharia demands Apostates be killed.
Indian father buried his ten-year-old daughter alive because he had always wanted a son and hated having a girl
Abul Hussein allegedly tried to murder his daughter by burying her
Locals in Putia village, north-east India, alerted police to her plight
Hussein, now in custody, hated the idea of having a daughter, police said
He was apparently beaten up by neighbours before police arrived
Read more:
http://www.gospelherald.com/articles/54062/20150121/uganda-imam-allegedly-beats-daughter-to-death-for-converting-to-christianity.htm#ixzz3QWw6Rkpd
Yemen to prosecute man who murdered daughter
Activists demand father be executed, but are skeptical due to Yemen's penal law
Al Hadi said that the father subjected the child to brutal treatment including burning her with an iron rod before killing her according to a video found in his mobile. Angered by the girl's case, dozens of women and men went on a sit-in, in Dhamar demanding the father be executed.
The girl's mother urged president Abd Rabbo Mansour Hadi and the governor of Dhamar to bring back her other two daughters who are in the custody of her ex-husband.
"He is a killer. I demand he be severely tortured before executing him," she said.
During last week's hearing, prosecutors demanded death sentence for the father, but activists and lawyers are sceptical the court will follow through because according to Penal law,
the prison term is three years for persons found guilty of murdering their children
. Interestingly enough, the punishment for torture is up to 10 years in prison, under the Penal law.
http://gulfnews.com/news/gulf/yemen/yemen-to-prosecute-man-who-murdered-daughter-1.1445224
Can you imagine the horror this poor innocent child of 10 years old must have felt? The pain before she died? Yes I did say innocent :
Colonel Mohammad Qassem Al Hadi, director of Dhamar's criminal investigation department who questioned the father, told
Gulf News
last month that the father refused to admit he was wrong, despite being shown medical reports proving his daughter was a virgin.
For what its like for some non Muslim women who marry Muslim men in the U.S. :
http://www.cbn.com/700club/features/amazing/false_religion_katrina.aspx
or here:
And yes The Quran, The Sira, and The Hadith all give a man the permission to beat is wife.
http://www.bing.com/search?q=Woman+who+married+a+Muslim+in+the+US+and+he+kidnapped+their+children&form=IE11TR&src=IE11TR&pc=DCJB
Then there is Female genital mutilation, yes it does happen in Western Countries also. Here is an article from The World Health Organization:
http://www.who.int/mediacentre/factsheets/fs241/en/
Of course who can forget the acid attacks? They are beginning to happen in Western countries also! Here is some of the aftermath of acid attacks:
Then there is the rapes. The sex slaves etc....
Boko Haram: Kidnapped Girls Have Been Married Off, Truce Never Happened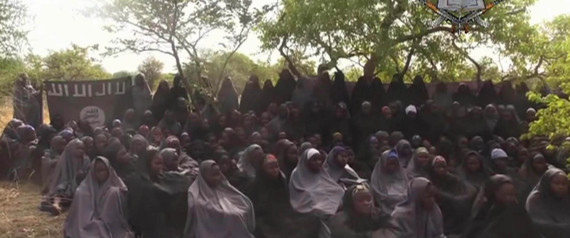 "We have have married them off and they are all in their husbands' houses," the man claiming to be Shekau says.
"The over 200 Chibok girls have converted to Islam, which they confess is the best religion. Either their parents accept this and convert too or they can die."
The majority of the kidnapped girls were Christians.
The man in the video also denied there was a ceasefire, and denounced Ahmadu, who says he represents Boko Haram in Chad.
"Who says we are dialoguing or discussing with anybody? Are you talking to yourselves? We don't know anybody by the name of Danladi. If we meet him now we will cut off his head," the man in the video says.
"All we are doing is slaughtering people with machetes and shooting people with guns ... War is what we want."
He says also that they are holding a "white man." The only known hostage seized in the northeast is a German teacher kidnapped from a college in the northeastern city of Gombe in July by gunmen widely assumed to be linked to Boko Haram.
IS Executes Women in Mosul For Refusing Temporary Marriage
The Islamic State (IS) militants have executed seven women in Mosul for refusing temporary marriage, or 'nikah'.
Kurdistan Democratic Party (KDP) official from Mosul Saed Mamuzini told BasNews that IS are demanding women accept nikah with insurgents. Nikah is a temporary marriage which permits the participants to have sex.
"Many women refuse to have sex with IS militants, in which cases they are arrested. The militants often kill them," said Mamuzini.
"Today [Saturday] seven women from Mosul were killed at the IS base of Ghazlan," he added.
Mamuzini claimed that these women had refused to enter in nikah with IS insurgents.
IS tell women that if they have sex with IS insurgents within the contract of nikah, it will be considered jihad for women.
These Temporary Marriages are nothing more than Sex Slaves sanctioned by The Quran, The Sira and The Hadith!
Freed Yazidis tell of girls and women being raped and sold into sexual slavery by Isis fighters
A surprise Isis offensive in August led 50,000 Yazidis to flee into territory held by the Kurdistan Regional Government (KRG). But an unknown number, amounting to many thousands, were massacred or detained while many women were raped or sold as slaves. Isis claims that such treatment of the Yazidis, whose ancient religion is drawn from Islam, Christianity and Zoroastrianism and who Isis call apostates, is permissible under Sharia law
Migrant who had sex with 13-year-old girl claims he thought it was a 'cultural norm' in UK
A PAEDOPHILE illegal immigrant who had sex with a 13-year-old girl claimed he was not aware it was against British "cultural norms", a court has heard.
Married father Zia Maroof Khail, 29, carefully groomed the victim and fooled her into believing they were "boyfriend and girlfriend".
After spotting her in a park, he made repeated approaches and the first time they spoke he told her he loved her, Preston Crown Court heard.
Khail, originally from Afghanistan, persuaded her to meet him at his home twice a week, said Mark Lamberty, prosecuting.
He sexually abused her there, and had sex with her in an alleyway and at her own home.
"He was abusive to her if she refused to co-operate in sexual conduct,"
Mr Lamberty added.
http://www.express.co.uk/news/uk/553946/Migrant-13-year-old-UK-cultural
Man given life sentence after electrocuting wife for giving birth to girl
A man in southeastern Turkey has received an aggravated life sentence after electrocuting and killing his wife after she gave birth to a second girl, rather than a boy.
Veysi Turan, a 29-year-old waiter in Diyarbakır, killed his wife by attaching bare cable to her feet while she was asleep in January 2014, according to Anadolu Agency.
Mübarek Turan, 33, had given birth to the couple's second daughter a day before her death, infuriating her husband who wanted a baby boy.
Turan had planned the murder beforehand, buying insulation gloves and electrical equipment for the crime, according to the indictment.
http://www.hurriyetdailynews.com/man-given-life-sentence-after-electrocuting-wife-for-giving-birth-to-girl.aspx?pageID=238&nID=77278&NewsCatID=341
This list could goon and on from sex slaves in Europe to honor killings in the U.S.A. From using 10 year old girls as Suicide Bombers to training child soldiers. This EVIL must be stopped!