Those of you who follow either of my two blogs are very familiar with Boko Haram. Those of you who don't probably never heard of them until Boko Haram kidnapped the 276 Christian School Girls in April and the Twitter #BringBackOurGirls campaign. Remember this?
It appears now eight months later Boko Haram is sending the girls back. Unfortunately they are dressed in Burqa's with suicide vests on.
Mia Bloom, an expert on female terrorism and a professor at the Center for Terrorism and Security Studies at the University of Massachusetts Lowell, told VICE News it is highly probable that Boko Haram is using the kidnapped schoolgirls as suicide bombers.
She explained that the insurgents could have accomplished this "either because of brain washing, or because Boko Haram has humiliated them sexually, like with rape, so that there's no option but to become a suicide bomber because of the honor code in place in traditional Nigerian societies."
Translated from a one hour video from Boko Haram in May:
"I abducted your girls. I will sell them in the market, by Allah," a man claiming to be Boko Haram leader Abubakar Shekau said in a video first obtained by Agence France-Presse.
"There is a market for selling humans. Allah says I should sell. He commands me to sell. I will sell women. I sell women," he continued, according to a CNN translation from the local Hausa language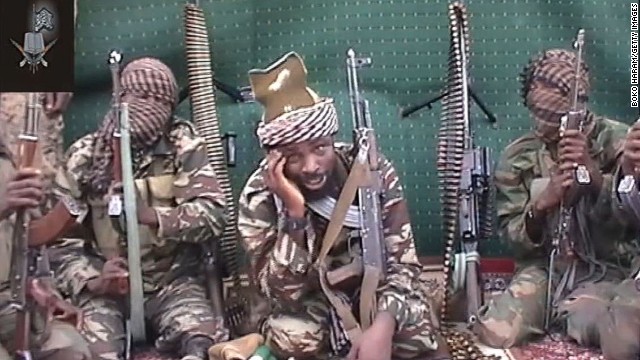 Abubakar Shekau
On December 5, 2014 we learned Abubakar had deployed more than 50 girls as suicide bombers with the goal of killing more than 100,000.
The following excerpt is from a BBC News Africa article on August 5, 2014:
Nigeria's militant Islamist group Boko Haram is accused of unleashing a new weapon of war - the female suicide bomber, fuelling concern that its insurgency has entered a more ruthless phase.
Four of them - all teenage girls - carried out attacks in the biggest northern city, Kano, last week, leading to social media sites going viral with speculation - dismissed as unfounded by the government - that Boko Haram had turned some of the more than 200 schoolgirls abducted in April into human bombs.
At the same time, government spokesman Mike Omeri said the security forces had arrested three people in neighbouring Katsina state - including two girls aged 10 and 18 - with explosive belts strapped around them.
Nigeria's first female bomber - a middle-aged woman - struck in June: Riding a motorcycle, she went to a military barracks in the north-eastern city of Gombe, where she detonated her explosives while being searched at a checkpoint, killing one soldier.
8 June: A middle-aged woman arrives on a motorcycle at a military barracks in Gombe, detonating an explosive killing herself and a policeman
27 July: A teenager with an explosive device concealed under her veil blows herself up at a university campus in Kano, injuring five police officers
28 July: A young woman joins a kerosene queue at a filling station in Kano before her bomb detonates, killing three people and wounding 16 others
28 July: A teenager injures six people after exploding her device at a shopping centre in Kano
30 July: A teenager within a crowd of students at a college campus in Kano blows herself up, killing six people.
You can read the entire article from the BBC here:
http://www.bbc.com/news/world-africa-28657085
More recently Boko Haram has increased their amount of attacks, and that the attacks are growing larger. Last week Boko Haram's soldiers of Satan murdered over 2,000 in one village. Most of the victims were women, children, and the elderly. Then Friday a 10 year old little girl with a suicide belt under her Burqa killed 20 at a market including herself. Some excerpt from the New York Times:
DAKAR, Senegal — A girl perhaps no more than 10 years old detonated powerful explosives concealed under her veil at a crowded northern Nigeria market on Saturday, killing as many as 20 people and wounding many more.
"It's a little girl," said the hospital official, who spoke on the condition of anonymity because of the delicacy of his position. "The body is beyond recognition, but from the face you can see it's a young person. A young pretty girl."
Several witnesses said it appeared that the girl might not have been aware of her deadly burden. Bakura Bashir, a shopper who witnessed the explosion, said: "This girl may not necessarily know she was conveying a timed bomb.
The girl was torn into two halves, and half of her body was thrown across buildings by the devastating blast."
Read the entire Times Article hear:
http://www.nytimes.com/2015/01/11/world/africa/suicide-bomber-hits-maiduguri-nigeria-market.html?_r=1
On 11 January,
two suspected child suicide bombers
targeted a crowded market in Potiskum, Yobe State, killing four people. Once again these young girls are estimated to be about 10 years old. Its so hard for the majority of people in the West to see how anyone could commit these horrendous crimes. Remember to them they believe in their hearts they are doing what Allah and Muhammad want them to do. To them this is a Holy War!
Think of this before you say your nightly Prayers. These little girls, if in fact they are the Christian girls kidnapped in April have been used and abused at their tender young ages as sex slaves. They have been thru hell since April. None of us can begin to imagine the horrors they have endured. Please Pray for these young girls!!