My Easter Prayer for America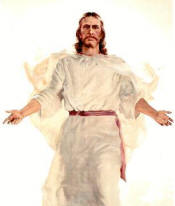 Dear God,
I come to you this Easter with a heavy heart. I see the direction this once great Nation is headed and I fear for the Country I love. So many have forgotten what made America great was You! Our Nations leaders, have forgot that the greatness of America was not because we were smarter, worked harder, etc... than other Nations. Our greatness came from our leaders dependence on You, Oh God!! From our families dependence on You! To many of us have forgot to give You the Praise and The Glory for all the good in this country, in this world.
God once America was known as a bright shining beacon for the world. A Nation that worshipped You, that took care of our families and especially innocent children, now under the word of "choice" we murder these innocent babies before they ever have a chance. Over 56 million Babies KILLED since Roe vs Wade. I hear Christians all the time ask where will the next Billy Graham come from? Perhaps he did, perhaps he was murdered in an abortion clinic somewhere.
Once in America you could go to Church and hear Your Word Preached, ALL of it. Now to often we go to Church to hear a 20 minute Sermonette, from a Pastor afraid he will offend members if he Preaches The Truth! I Praise you Oh Lord for the few remaining courageous Pastors who Preach The Truth out of their Love for you and their Brothers and Sisters! For a long time in America, The Church was the center of our community. Anytime you drove by there were lights on, cars in the parking lots, now to many Churches only have cars in the parking lots on Sunday morning.
When I went to school we began every day with a Prayer to You, and the Pledge of Allegiance. What have we done? Why have we turned our back on You? We have allowed liberal Judges to distort our First Amendment to the point Christians are afraid to mention You in School!!! Once most political functions in America from small Town hall meetings to Sessions of Congress were opened and closed with Prayers. This went on for 200 years!! During that time we watched as America grew and prospered. We allowed a vocal few and some Liberal Judges change that and look at us now.
We are a Nation in moral decline, in Spiritual decline, and a world power whose power is declining. Whose enemies are circling around like sharks who smell blood. We are a more divisive now than I have ever seen. I beg You my Dear Lord to help us change this!! To help us have a reawakening in this Nation. I Pray God for Courageous Preachers who will once again stand in the Pulpit and Preach Your Word, ALL of it! I Pray that You will send us once again Leaders who follow You, and help inspire us all to once again put You in charge!
It so breaks my Heart Oh God to see the leaders we vote into office turn their backs on You. I watched the TV this week in horror as American citizens stood, some armed to defend an American Citizen from our own Government! I don't know if the Rancher was right or wrong. I only know his family has been doing this since 1870. It seems a shame that a government that is supposed to represent its citizens would be so quick to turn guns on them.
It broke my Heart to watch as members of the Democratic Party at the convention in Charlotte booed You and Israel! I can only imagine the pain that caused You.
Dear God this the most Holiest Weeks of the year, I Pray that you also restore me. That you help me fight the pain from this wicked disease, and the pressure from the financial hardships my family endures because of it. That You help me focus on You. Focus on running the good race, fighting the good fight! That you give me once again the passion and strength to overcome these things. That you use me Oh Lord in any and every way you can to help spark a Revival in this Nation that owes you so much!! Thank you God for using this week to remind me what I suffer is nothing. What Jesus Christ endured is suffering! He suffered so much as he was beat, spat on, humiliated then Hung on a Cross. All that we may spend eternity in Heaven. Thank you God for reminding me this week my pain is nothing compared to the pain You endure as You watch Your children turn their backs on You!!
I Pray Dear God that You use this Prayer for my family, my country and myself to desire and work to once again put at the beginning of all we do. I Pray Dear Lord that You not yet turn Your back on this Nation or on me. I Pray You give us one more chance to turn this Country around! To get back on the path You desire!
Please God, shape me, mold me in a way that I make You proud.
I Pray this Dear God in The Name of Jesus Christ!
Amen
2 Timothy 4:7
New International Version (NIV)
7 I have fought the good fight, I have finished the race, I have kept the faith.